Yolandra Martin-Thomas The Broker - Client Love Letters Below!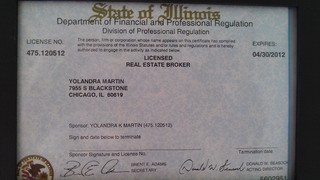 Location:
Chicago, IL
The Real Estate Field has various options to be explored. In 1991,I worked as a real estate assistant for an agent at Century 21. Working as an apprentice jump started my initial love for building structures. As a child working along side my father,a decorator,I enjoyed watching him reconstruct properties & make them beautiful again. The ability real estate has to be renewed continuously is wonderful.
In 1996,I decidedthis would be a career that I would enjoy. I discovered Property Management in 1998,and managed a luxury high-rise. The property was distressed and required a full overhaul. Initially the primary focus was to structure new office systems,lease up a property with a 70% occupancy rate, Rehab units as they vacated, and clean up delinquency/evictions for property.
One of the properties I contracted with was Wexenthaller Realty Management.I enjoyed managing & directing the leasing department in marketing, product knowledge and discovering ways to improve all daily aspects of daily operations. Wexenthaller noticed my hard work & submitted me for a Camme award with the Chicago Apartment Association.
In November of 2007, I was presented award for Vintage Leasing Consultant. From 2007 to present I have assisted various private and large property management firms inleasing up vacant units and set up aggressive marketing and "smart" office systems for simplicity. I have received several letters of compliment form clients I have serviced.
Presently I run my own Real Estate Brokerage. I cover consulting investments and overseeing completion, traditional sales and property management.
I am not your "hype" get quick fast rental services. I believe in quality over quantity! I want your business and referral's for a lifetime and providing substandard service doesn't align with my business goals!
I look forward to gaining your business!
Professional Experience
IL Real Estate Broker
Sole Proprietor 2010-Current
Owner/Operator of Real Estate Brokerage covering all aspects of real estate services. Specializing in marketing and the promotion of private owners and larger property management firms. The brokerage covers property management details based on financial goals of property and creating budgets/plan of action to achieve these goals.
Holsten Property Management Leasing Director 2010(Contract)
Tax Credit property on Chicago historic Garfield Park community. Hired on contract to execute specific tasks. Responsibilities included every aspect of leasing. Marketing, sales, reporting, managing make readies status of apartment homes,processing/approving applicants based on TSP and any all other administrative task.
Wexenthaller Property Mgt Leasing Agent/Asst. Manager 2005 to 2008
Exclusively responsible for all leasing/marketing activities for two historic buildings located on Chicago north side. I maintained high occupancy rates without rent concessions. Created pre-leasing schedule, attractive renewal plan for retention, new outreach plans, modern advertisement and resident/co-workers social activities. Heavily marketing online vacant vintage rental units. I was a Camme candidate and won in 2007!
Draper and Kramer Assistant Leasing Director 2004 to 2005
Managed a staff of six. Responsible for human resources, accountingand monthly reporting needs. Determining monthly leasing goals and accomplished set tasks. Developed new business with outreach programs for local business in area.
eRealty.com Real Estate Client Coordinator 2001 to 1998
Website monitoring from home and office. Daily contact with clients, Mortgage companies and inspectors, etc. Formulate weekly and monthly Office Revenue Reports. Evaluate new contacts: Market Analysis for sellers and Pre-Qualified buyers. Provide employer database with assistance in Real Estate needs. In house technical support contact person for all staff.
Property Management One Resident Manager 1998 to 1999
Minimized vacancy rates and turn around time for vacant properties.Managed maintenance and leasing staff. Collected revenue and effectively managed delinquents for property. Resolved resident requests of unsatisfactory conditions. Created monthly status reports and directed marketing objectives. Varied properties from market, Section 8 and Tax Credit residences.
Coldwell Banker Real Estate Sales Agent 1996 to 1991
Interacted daily with prospective buyers and sellers. Maintained all clients/properties in real estate database. Formulated Comparative analysis for sellers and determined credit eligibility for buyers. Escorted clients to active properties for sale. Completed local and outbound BPO reports for REO agencies.
Education & Accomplishments
2009
Chicago Real Estate School
Real Estate Broker License
2007
C
hicagoland Apartment Association
Camme Award Earned-Leasing
2006
Wexenthaller Realty
Residents
Several praise letters
2005
T
he Monroe Foundation
Non-for-Profit/501(c)(3) Mgt
2004
Chicago Association of Realtors
Real Estate Broker License Prep
2002
Mid-South Planning & Developmen
t Business Management
1999
Chicago Association of Realtors
Real Estate Appraisal
1997
Daley College Broker
Prep License Classes
1996
Century 21 Real Estate School
Real Estate License
1994
Robert Morris College
Elective Classes
1993
Kennedy King College
Computer Information Systems
Owners Services and Benefits Provided
Do you have a vacant unit you need leased? Lets set an Open House!
Do you have a unit leased which lease is to expire and would like it pre-leased?
Start collecting money before your unit is vacant!
Do you want a honest hardworking professional to service your rental portfolio?
I treat your business as I would treat my own!
Do you want quality residents? Keep a consistent cash flow with detailed resident screening.
Credit
Criminal
Employment
Landlord
Current Home Visits
Full Cook County Court Docket search
Other services provided
Tenant services. Looking for a place?
If you are looking for your next apartment home look no further! Let me represent you so your treated fairly! I am connect with several private, large property management firms that have apartments for rent.
Services I provide for prospective tenants:
Owner of record verification to avoid monies being lost to fraudulent owners
Required disclosures property owners must submit
Perform market rental search to ensure fair market price!
Other services provided

9204 S. Commercial Ave
Chicago, IL 60617
View Map
Service Type:
Real Estate
Market Focus:
Client First